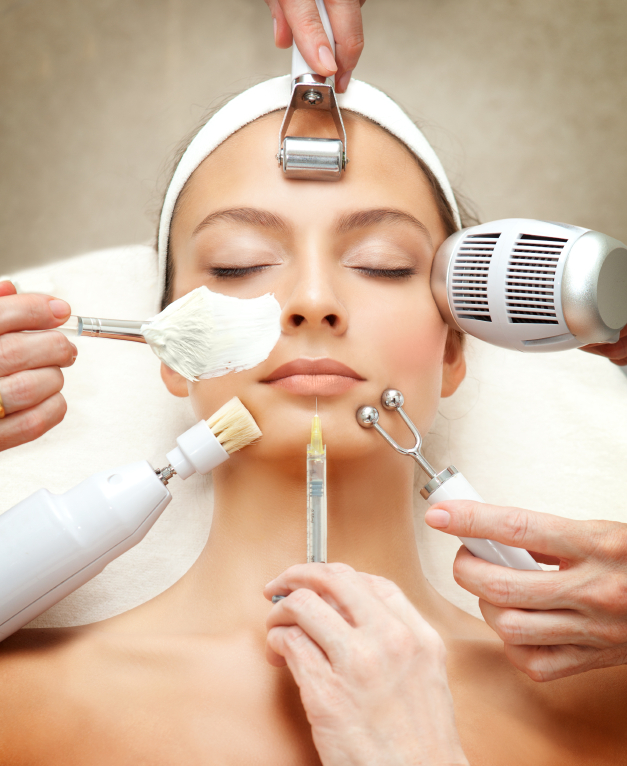 On Monday morning I awoke to the usual smattering of 50+ new emails in my inbox. I weeded through a handful of "I love your book!" and "You're so fat and ugly and stupid I can't believe anyone let you out of your cage to write a book!" messages. (I'll discuss creepy jerks another day. For now, just know that I was not "let out" but escaped from my cage and it's been grande!) I soon came across an email from Groupon.com, titled "These Deals are Good for Your Health."
Screenshot of THE email.
I've been a Groupon customer for years. I LOVE getting a great deal on the variety of services and products I consume. Thanks to Groupon, I've tried numerous new restaurants, snagged a few indulgent mani-pedis, spent a romantic weekend in wine country, and had my car immaculately detailed in an urgent post-puppy-puke situation. I usually love these folks. So when I saw the heading "These Deals are Good for Your Health" I was psyched. Bargains! Health! Yay!

I opened the email ready to pounce on discounted dental cleanings, yummy yoga class passes, chub-rub-resistant workout gear, some therapeutic (aka, relaxing) massage, a new ergonomic keyboard, or maybe the latest 28-inch NASA-patented skittles-filled mattress pad. Instead I was offered the following deals, for my "health":
75% off of Laser Hair Removal
58% off of Brazillian Waxes
70% off of Microdermabrasion
56% off Laser Lipo Treatments
55% off Phytobiodermie Cellulite Reduction
69% off Fractional Laser Treatments
To be precise, the "Good for Your Health" promotion email contained all six of the above and two vague offers for discounted "Spa Services," (one turned out to be a fairly benign mani-ped + massage and the other offered a "deluxe oxygen facial" + "microdermabrasion; infrared sauna; herb enriched detoxifying wrap"). But that's it. No yoga passes, no dental cleanings, and the "herb enriched detoxifying wrap" didn't even include medical marijuana! (j/k. Grandmas Ruth and Rita, I would NEVER!) Instead it was just a bunch of beauty "treatments" in disguise.
That Groupon email was one of the finest most blatant examples of "medicalization" I'd seen in a while.
In sociology-speak (quoting from
this EverydaySociologyBlog essay
), the term
medicalization
"refers to the practice of redefining a behavior, concern, or practice as a problem to be 'solved' by doctors"
Sociologists study the medicalization of all sorts of things, including childbirthing/delivery, misbehavior/ADHD, fatnes s/obesity, and sexual "dysfunction". (My all-time favorite example of medicalization is "hysteria," a catch-all diagnosis that Victorian era physicians treated through "fine gentle massage"... of the lady parts!) Medicalization isn't inherently bad. I, for one, I'm grateful that a lot of mental health issues are now therapy + doctor things instead of "bad mood" or "just eat" things. But "There's a lot of money to be made from telling healthy people they're sick." I love it when companies solve my problems, but not so happy when they invent them!
So I'm pissed off at Groupon. It's bad enough that these primarily aesthetic "treatments" are described as "Good for Your Health" despite the fact that none of the body bits (pubic hair, wrinkles, cellulite) pose any legitimate health risk in their natural state. But, to make matters worse, almost all of these "services" involve physical pain and/or impose health risks due to the treatment itself. Not such a great deal after all...
Now, I enjoy my own beauty routines as much as the next gal. I reward my "writing fingers" with weekly manicures, wear some makeup most days, and even had a brazilian or two back when I was still trying to impress my husband. I'm not angry at women who want to be beautiful. I get it. I want to be beautiful too. However, I am angry at bullshit beauty advertising. Hate the game, not the players, ya'll.
This cartoon = me + Michael when we first started dating. Ha!
Women deserve a world in which we are free to express individuality and authenticity through appearance, allowing us the pleasurable creativity of self-expression. In this world we would not be so harshly judged for our beauty or our beauty-related choices. We obviously aren't there yet (hence, the "you're too 'fat-n-fugly' to be allowed to speak" emails I've been getting), but in the meantime I'd really appreciate it if Groupon would stop trying to convince us that tearing out our public hair at the root is "good for our health."
Enough of my rant. What do YOU think?
Do any of your beauty routines make you healthier?
Have any of them caused pain or - egads - a trip to the ER? I'll show you mine if you show me yours!